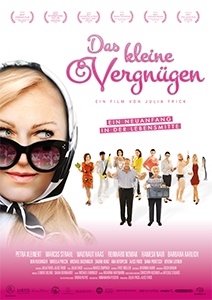 International title: Shop of Little Pleasures | USA: Redefining Emma
Emma is a 50 year old unemployed mother of two grown up children, who's husband  is looking for his sexual awaking – with another woman.
The thought of filing for divorce also turns out as a financial threat for Emma. She starts looking for jobs and ends up as a salesperson in an "erotic market", run by Charlie. She quickly realises that the ranch of products in the shop is not made for women and decides to revamp the store into an "erotic boutique for women and everyone who loves women"…
Kinospielfilm, Österreich 2018, 93 Min.
Emma ist eine gestandene Frau im besten Alter, mit zwei Kindern, einem Haus mit Garten und einem Mann. Alles ist soweit in Ordnung – bis sich ihr Mann auf die Suche nach seiner sexuellen Erweckung begibt.
Ohne Emma.
Die drohende Scheidung wird auch zur wirtschaftlichen Bedrohung, und Emma landet nach einer frustrierenden Jobsuche als Verkäuferin in einem Sexshop, dessen Betreiber Charlie dringend eine neue Geschäftsführerin sucht. Emma stellt schnell fest, dass Frauen im herkömmlichen Sortiment nicht viel finden und gestaltet den Shop um – zur "Erotikboutique für Frauen und alle, die Frauen lieben".
Durch ihren tatkräftigen Einsatz mit und für die Kundinnen gewinnt sie neue Einsichten und findet heraus, dass die herkömmlichen Vorstellungen über weibliche Sexualität überholt sind und man(n) im Allgemeinen keine Ahnung davon hat. Sie läßt nichts unversucht, den jahrezehntelangen Staub des Ehelebens abzustreifen und ihre eigenen Bedürfnisse zu erforschen.
Emmas Veränderung wird sowohl von ihrer konservativen Mutter als auch von ihren flügge gewordenen Kindern skeptisch beobachtet und kritisiert, aber Emma läßt sich nicht mehr einschränken. Unterstützung und neue Freundschaften findet sie durch ihre "geschäftlichen" Aktivitäten, und auch ihr Ex bekundet nun, da sie (sexuell) eigene Wege geht, wieder Interesse an ihr.
So nimmt die Entwicklung ihren Lauf…
(Germany, Austria, Switzerland)
(Germany, Austria, Switzerland)
Cast: Petra Kleinert, Waltraut Haas, Marcus Strahl, Reinhard Nowak, Ben Ruedinger, Barbara Karlich, Ramesh Nair, Mirella, Michael Buchinger, find the whole cast list on imd
Director: Julia Frick
Screenplay: Julia Frick, Alice Frick, with ideas by Sabine Kunz
Cinematography: Marco Zimprich
Production Design: Fritz Müller
Soundtrack: Michael Ehninger
find the whole team list on imdb
World Premiere at MONTREAL WORLD FILM FESTIVAL
(Section "Focus on World Cinema", Montreal, Canada), Aug. 24, 2017
Austrian Premiere at FRAUENFILMTAGE, Vienna, March 5, 2018
12 awards (2x Best Film, 2x Best Supporting Actress, Best Lead Actress, Best Supporting Actor, Best Director, Best Original Score, Best Production Design, Best Costume Design
19 nominations (Best Rom Com, Best Comedy, Best Feel Good, Best Director, Best Female Lead, Best Production Design, NDR Nachwuchsfilmpreis, …)


Theatrical Release Austria: Oct. 12, 2018 (35 movie theatres)