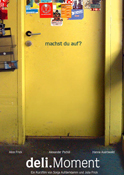 short film (10 minutes)
DV 50, Austria 2005
One glance. One kiss. One moment.
While her best friend is talking her head of about men, Karin escapes to the toilet. She finds a young handsome man there. Their eyes meet. Their lips touch. A magical moment is happening.
Seconds later Karin returns…but she is different than before – and so is the world.

AWARD
Winner of Diana in Bronze 2007








IMDB ENTRY
CAST
Ben: Alexander Pschill
Karin: Alice Frick
Kellner: Stefan Pohl
Geli: Hanna Auerswald
TEAM
Written by: Sonja Aufderklamm
Directed by: Julia Frick
Director of Photography: Sonja Aufderklamm
Production Manager: Maria Senn
Music: Guigue
Sound Design: Christoph Gruber, Raffael Gruber
Film Stills: Christian Modler
Grafik: Emu Santer
Production Design: Raffaela Antosch
Make Up: Elena Kummeneker
Costumes: Florian Lorenz
Script Supervisor: Martin Gamper
Continuity: Lisi Luger
Assisting Camera: Kathi List
Lighting: Jakob Slavicek, Susanne Kellermann
Lighting Assistance: Mario Mayer, Florian Slavicek
Productionassistance: Verena Saischek. Florian Frauscher
Sound Recording: Dominik Mayr
Editor: Julia Frick
EXTRAS
Tom Mayer, Arek Zakrzewski, Simon Wegscheider, Sandra Högl, Martin Gamper, Johannes Hafner, Thomas Herberth, Nikola Gombros, Josipina Babic, Robert Seifried, Florian Walter, Veronika Pirak, Anne Thieme, Harald Schwarzmann, Lisi Luger, Robert Seifried, Eva Hörmanseder, Stella Oesch, Robert Passini, Emanuel Santer, Michael Mandl, Florian Hulan, Max Zandanel, Cäcilia Wegscheider, Manfred Wipplinger, Peter Lettmüller, Iris Eder, Stefan Wolowiec, Nelly Kurth, Theresa Feuerstein, Florian Schmidt, Stefan Patauner, Manuela Carli, Katja Köllensperger, Stefan Gillmeier, Maria Senn
SUPPORTERS
deli am Naschmarkt
Ströck Brot
Die Johanniter