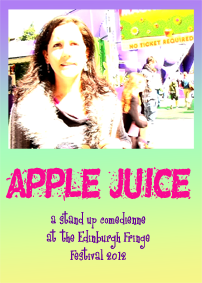 short documentary (22 minutes)
Austria/UK 2013
LOGLINE
A dirty street-style documentary about stand up comedienne Alice and her daily routine at one of the world's biggest Comedy Festivals "The Fringe" in Edinburgh 2012.
SYNOPSIS
This film shows a day in the life of Alice, a stand up comedienne from Austria, who now lives in London. We follow her in this fast-paced and entertaining documentary as she performs for four weeks in the Edinburgh fringe festival, which is one of the largest stand-up comedy festivals in the world. We watch her everyday routine, her performances, and interviews that she gives to get insight into the life of being a fringe comedienne and it leaves us questioning if the glory of being onstage follows her to the streets. In Alice's performance she talks about coming out gay to her religious grandma, which is one of the best parts of her show and the viewer gets to sit back and see how some of her interviewers handle the topic.
FESTIVAL INVITATIONS
Tel Aviv Int. LGBT Filmfestival, Israel, June 8-17, 2013
Durban Int. Gay & Lesbian Filmfestival, South Africa, June 10-30, 2013
TRAILER (50sec):
DOCUMENTARY (22min):
CAST
Alice Frick
Cecilia Delatori
Mrs. Barbara Nice
Christian Schulte-Loh
TEAM
shot & directed by: Julia Frick
edited by: Lenore Eklund
written by: Alice Frick, Julia Frick
English translations by: Lauren Karl
first sound design/mixing: Konstantin Drossos
final sound design/mixing: Mark Eklund
music: NIFTY's (www.bruckner-weinhuber.at, www.mathiaskoch.net)
produced by: Alice Frick, Robert Strebl, Julia Frick

A PRODUCTION OF: